---
2022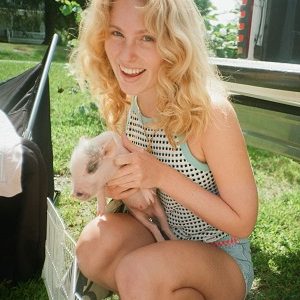 Lena Farley, Branco Lab
I am a rising sophomore at Pomona College, in Claremont, California. I was born and raised in Brooklyn and first found my love for nature within the confines of the borough. My favorite spot is Prospect Park, especially the dog pond. In my free time, I create art and go on walks around the city. I am majoring in Environmental Analysis following the Biology track, and also have a strong interest in history, especially art history. I am working with Professor Branco, studying the coastal resiliency of Jamaica Bay. Prior to participating in BUEE, I explored the natural world while farming on a permaculture coffee and macadamia nut farm on the Big Island of Hawai'i. I also worked at the River Project on the Hudson River as a Marine Biology intern during the summer of 2019. Experience working outdoors is extremely valuable to me, and I am very grateful to be able to continue to do so while researching with Brooklyn College.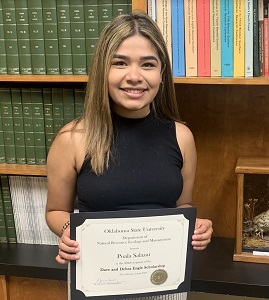 Paola Salazar, Wilson Lab
My name is Paola Salazar and I am a first-generation Mexican American college student from Oklahoma City. Currently, I am a rising senior at Oklahoma State University, majoring in Natural Resources Ecology and Management, with a concentration in Wildlife Ecology and management. In my time at Oklahoma State, I have been involved in lab research investigating changes in the composition of freshwater zooplankton communities in Oklahoma reservoirs over the summer season and how harmful algal blooms impact zooplankton diversity. I also interned in a summer field-based  project examining the influence of rising global temperatures on life-history traits in house sparrows. I have been the treasurer and secretary of the Society for Advancement of Chicanos/Hispanics & Native Americans in Science (SACNAS) chapter at my university, sports coordinator for the Hispanic Student Association, a member of our Wildlife Society Chapter, and an OK-LSAMP and McNair Scholar. While I am not in the lab, classes, or school activities—I can be seen out playing with my accordion, at the gym, with my ducks and pit bulls, taking care of my plants, or spending time with my friends.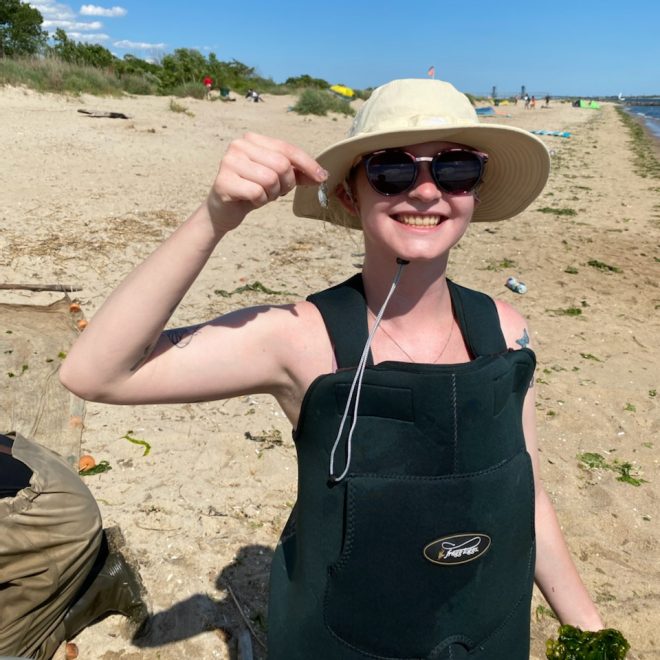 Trinity Shuler, Zarnoch Lab
Hello, I'm Trinity Shuler! I'm a rising junior at the University of Texas at San Antonio studying Environmental Science with a concentration in conservation and restoration. I have interests in birdwatching, hiking, and painting my nails and I often end the day watching a good show. While at UTSA I've worked with the San Antonio Zoo and the San Antonio River Foundation to create kid-friendly educational activities focused on pollinators, learned more about the complexity of the Texas landscape, and engaged in various environmental volunteer events. While here I'll be studying ecosystem resilience and coastal restoration under Professor Zarnoch, and I hope to use this valuable experience in my future research endeavors and in deciding my career.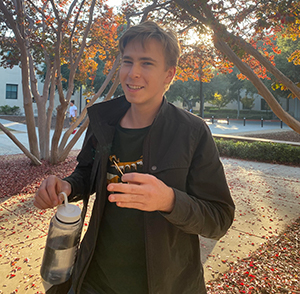 Marcello Ursic, Cheng Lab
I'm a rising junior at Pomona College double majoring in environmental analysis and sociology. More specifically, I'm following Pomona's "sustainability and the built environment" concentration, meaning environmental science as it intersects with urban planning, sustainable design, civil engineering, etc. I currently reside in Portland, Oregon with my mom and twin sister. Outside of academics, I'm into electronic music, film, hiking, science fiction lit, and vintage digital watches. I also have two cats.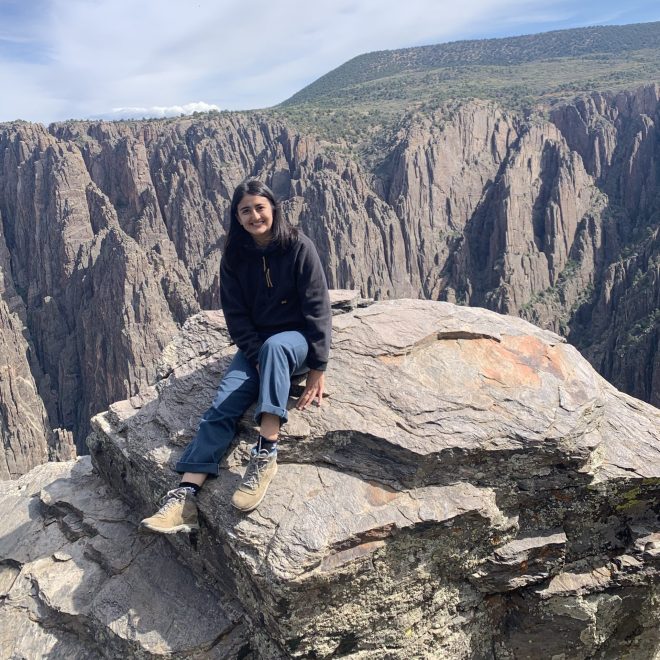 Jazmin Villeda, Branco Lab
Jazmin is an incoming second year student at the University of Texas at Austin. She is majoring in Hydrogeology and is interested in studying the movement of water in urban and densely populated areas. She understands that water drives population location and is important for all forms of life. Jazmin will be working under Brett Branco and the Science and Resilience Institute at Jamaica Bay to study coastal resilience and erosion. Outside of learning, she enjoys reading, running, and journaling.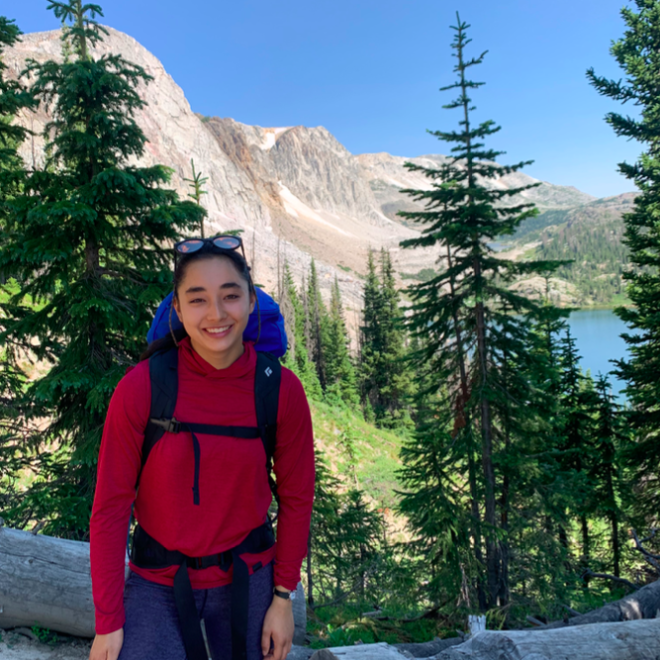 Nora Yang, Zarnoch Lab
Nora is a rising junior at Stanford University majoring in Human Biology and minoring in English. She is passionate about understanding human health from an ecological and environmental perspective. This summer, she is working in Professor Zarnoch's lab studying ribbed mussels' effect on coastal nitrogen cycling. In her free time she enjoys hiking, doing yoga, and knitting.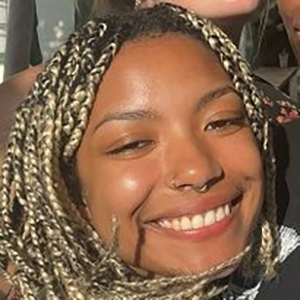 Shelby Luster, Muth Lab
Shelby is a rising junior at Scripps College majoring in Environmental Analysis with a concentration in Sustainability and the Built Environment. She was made aware of many environmental and urban design issues growing up in Los Angeles which she became interested in solving as she delved into environmental studies. She is particularly passionate about sustainable and environmentally just urban planning and design. This summer she is working in Professor Muth's lab studying duckweed and urban soils.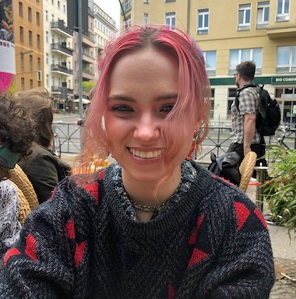 Anna Kraebber, Muth Lab
My name is Anna Kraebber and I use she/her pronouns. I'm from New York City and I'm a biology major at Wellesley College, which is just outside of Boston. In my free time, I like to play DnD with my friends and I started knitting and crocheting last year.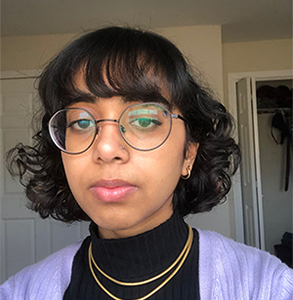 Aradhna Johnson, Wilson Lab
Aradhna Johnson is a rising senior at UMass Amherst majoring in Biology and English. She would like to pursue a career in evolutionary biology. She is especially interested in urban environments because they are a rapidly expanding yet understudied type of ecosystem. She believes that understanding urban environments is essential to the environmentalist movement. Aradhna currently works as a tutor and a resident assistant, and is the president of the UMass poetry club. Outside of school she enjoys reading, writing poetry, bird watching, and meeting new people.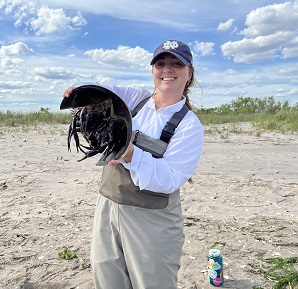 Becca Jones, Forlano Lab
Becca Jones (she/her) is a rising senior from Saint Mary's College, Notre Dame. Becca is majoring in Biology with a concentration in Ecology, Evolution, and Environmental Biology. She will also graduate with a minor in Music. Becca is working in Dr. Forlano's lab this summer to investigate the effects of sound pollution on oyster toadfish mating behavior.  Prior to participating in BUEE, Becca worked in a bioacoustics and animal behavior lab investigating the impact of sound pollution from Notre Dame football games on wildlife acoustic activity. Becca also worked as a Food Systems and Sustainability intern with Huerta Luna, the first organic and regenerative farm in the Galapagos Islands during the summer of 2021. There she contributed to the day-to-day maintenance of the farm as well as helped collect data on what plants were most prolific given the microclimate of the location of the farm. Becca also volunteers at the Potawatomi Zoo and serves as Co-Chair of the Sustainability Committee for the Student Government Association at Saint Mary's College. Becca's research interests primarily include how anthropogenic actions affect marine animal behavior and evolution. In her free time, Becca likes to go to concerts, learn to play piano, and especially hang out with friends and her cat, Chase.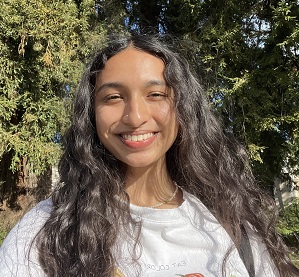 Nishita Dashpute, Cheng Lab
Nishita (she/her) is an incoming second year at UC Berkeley studying Ecosystem Management and Forestry and minoring in data science and food systems. She is excited to not only explore Brooklyn this summer, but also study microplastics in urban soils under Dr. Cheng. In the future, Nishita hopes to develop and implement data-driven strategies that enhance ecosystem resilience and carbon sequestration, but for now, she enjoys biking, reading, and photography.
---
2021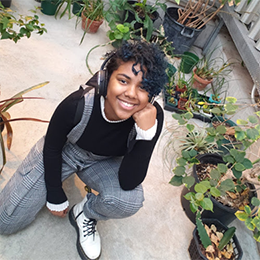 KC Coryatt, Branco Lab (Class of 2021)
BS Candidate, Environmental Studies, SUNY College of Environmental Science and Forestry
What can I do to promote sustainability in large cities? What role do humans play in protecting urban ecosystems? KC, a junior at the SUNY College of Environmental Science and forestry, hopes to answer these questions and much more doing research with Professor Branco this summer. KC is majoring in environmental studies with a focus on policy and law and is minoring in environmental writing and rhetoric. On campus, KC is the founder and president of their college's first-ever Black Student Union, facilitator and programmer for one of the main school Diversity programs, as well as Secretary of the Sexuality and Gender Alliance. Being a Brooklyn native, KC has grown up observing the urban environment around them and wondering what they could do to help these ecosystems thrive and remain for years to come. Knowing the scientific side of these issues can help them steer a better course for themselves and others in environmental law and advocacy, as there often seems to be a disconnect between scientists and those who fight for and create laws. Outside of schoolwork and managing extracurriculars, KC loves to sing, go on adventures, and take care of their two guinea pigs.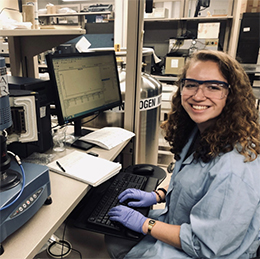 Lily Fillwalk, Muth Lab (Class of 2021)
BA Candidate, Environmental Science, Pitzer College
Lily is a senior at Pitzer College in Claremont, CA pursuing a double major in Environmental Science and Studio Art. Outside of academics at Pitzer College, Lily is the senior class president of Student Senate, a Resident Assistant, and a Fellow at the Robert Redford Conservancy of Southern California Sustainability. Through attending the Indiana World Food Prize Conference at Purdue University, Lily became interested in food security issues and environmental science. She has also conducted research with the World Food Prize Foundation through the United States Department of Agriculture, focusing on the sustainability of functional foods. Lily hopes to attend a science policy based graduate program, where she can apply her established scientific knowledge to a public policy setting.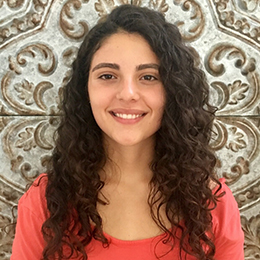 Cassiel Padilla-Durán, Wilson Lab (Class of 2021)
BS Candidate, Environmental Technology, University of Puerto Rico at Aguadilla
Cassiel is a rising senior at the University of Puerto Rico at Aguadilla pursuing a Bachelor's in Environmental Technology with a concentration in Environmental Chemistry. After conducting research at her home university concerning the recovery of mangrove forests in Puerto Rico damaged by Hurricane Maria, she became interested in environmental science, ecological restoration, and how ecosystems respond to external disturbances. This led to her participation in the RISE at Rutgers summer research experience where she studied how marine invertebrate traits relate to changes in their migration patterns caused by climate change. She hopes to pursue graduate school to further deepen her knowledge on topics concerning ecology and environmental chemistry in order to promote the conservation of these ecosystems and understand the mechanisms that drive them. This summer she will be working with Professor Wilson to study the reproductive behavior of nearshore pipefish.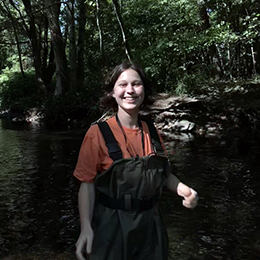 Anna Silverstein, Wilson Lab (Class of 2021)
BA Candidate, Environmental Studies, Mount Holyoke College
Anna is a junior at Mount Holyoke College majoring in Environmental Studies and minoring in Coastal and Marine Sciences. She became very passionate about urban environmentalism and conservation after she worked on multiple conservation campaigns in New York City, most recently working with the student led lobbying group, NYPIRG, on their campaigns to create a safer, more sustainable NY. Before that she worked at the New York Aquarium in Coney Island on their campaign to create a National Marine Sanctuary off New York's coast. It is her hope that she can use this interest to work to create equitable, sustainable and healthy communities of peoples and their ecosystems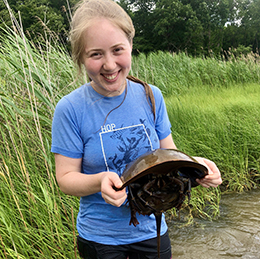 Caroline Troy, Gosnell/Zarnoch Lab (Class of 2021)
BS Candidate, Environmental Science, Brown University
Caroline is a rising senior at Brown University studying environmental science, with a focus on conservation science and policy. She previously interned at Morgan State University's Patuxent Environmental and Aquatic Research Laboratory studying oyster restoration and forage fish habitat, the Brown University Herbarium, and New York City Department of Parks and Recreation's Capital Projects. She is interested in careers involving ecological restoration and conservation. This summer she will be working with Professors Zarnoch and Gosnell to study topics such as the effects of mussels on salt marsh restoration areas.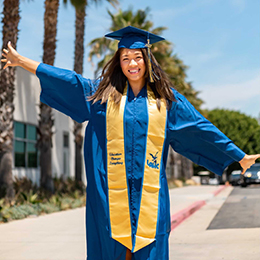 Lauryn Tham, Gosnell/Zarnoch Lab (Class of 2021)
AA Candidate, Biology, Los Angeles Harbor College
Lauryn is a Sophomore majoring in Biology at Los Angeles Harbor College where she holds leadership positions in several campus organizations. She is the captain of the varsity volleyball team, the Senator of Pre-Health Majors for Associated Student Organization, the Vice President of Alpha Gamma Sigma, and the Administrative Officer for Pre-Medical Honors Society. In addition, Lauryn has ambitions revolving student outreach and involvement which had led her to serve as the Student Representative for Asian Pacific American Student Services (APASS) and a Science, Technology, Engineering & Mathematics Success, Transfer & Equity Program (STEMSTEP) Student Mentor. Lauryn is determined to utilize the world-class mentorship and hands-on research experience provided by the BUEE program to promote positive change in her future scientific endeavors.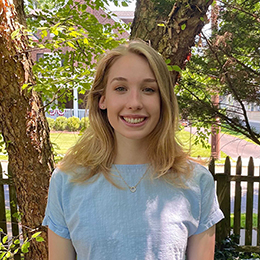 Emily Wilson, Branco Lab (Class of 2021)
BS Candidate, Biology, Lafayette College
Emily is a rising senior at Lafayette College double majoring in Biology and Environmental Studies. After taking environmental humanities classes, Emily became passionate about human-nature coupled systems. She hopes to have a career in ecosystem management in order to restore and conserve the beauty that drew her to a career in environmental science. She currently does conservation and environmental biology research with her "Lab fam." Aside from research, Emily is a member of the Lafayette Varsity Swim team. This summer, Emily will be working with Professor Branco at the Science and Resilience Institute at Jamaica Bay to implement Natural and Nature-Based Shoreline Features (NNBF).
---
2019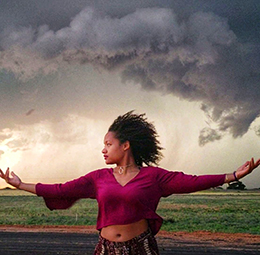 Quiana Berry, Staniczenko Lab (Class of 2019)
AA Candidate, Liberal Arts and Sciences, Bronx Community College
Quiana is a Sophomore in Biology at Bronx Community College, V.P. of her Student Government and Chair of all clubs on campus, where she aims to make a positive impact on her community. She uses her role to advocate for student's needs, spearhead successful events, create opportunities for students to express themselves, build their networks, and learn new skills, while contributing to boosting student engagement and retention. Her involvement in student government has sparked her interest in science policy and advocacy. She aspires to take the tools/knowledge provided in the BUEE program and create more awareness in her community, while implementing changes that could benefit her campus and city as a whole. Outside of academia, as a world traveler of 8+ years she enjoys photography, poetry, adventuring and immersing herself into new cultures, learning about financial investments, learning different human and computer languages and staying active through martial arts, swimming, biking and yoga.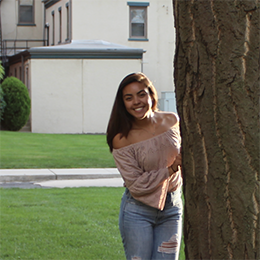 Valerie Kim, Gosnell/Zarnoch Lab (Class of 2019)
BS Candidate, Ecology, Rutgers University
Valerie Kim is a junior at Rutgers University where she is pursuing a major in Ecology, Evolution, and Natural Resources. During her sophomore year she has worked in the Floriculture Greenhouse on campus, where she was a co-exhibitor on a first place winning bulb at the Philadelphia Flower Show. Val loves to be active and enjoys being outdoors, playing field hockey, and exploring. She hopes to use the experiences and research that she conducts in the Gosnell Lab to further her passion for aquatic ecology and conservation. After graduating from Rutgers she wants to obtain her PhD, travel the world studying aquatic systems, and further the future of oceanic conservation. Subsequently, she wants to give back to her community and become a professor where she will be able to teach new passionate ecologically thinking minds.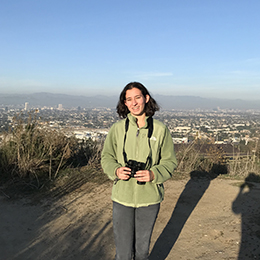 Sidonie Horn, Wilson Lab (Class of 2019)
BS Candidate, Biology, College of William and Mary
Sidonie is a sophomore at the College of William and Mary majoring in Biology. At William and Mary she does research in an applied ecology lab. Last year, the research focused on the modeling factors that contribute to deer vehicle collisions in Virginia. This summer, Sidonie is working in Wilson lab studying behavioral dynamics in seahorses and pipefish. With this research, she hopes to continue to learn more about animal behavior, genetics and conservation biology. When not doing research Sidonie can be found at the nearest flying trapeze school.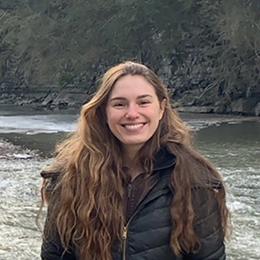 Izabella Kornak, Muth Lab (Class of 2019)
BS Candidate, Environmental Engineering, Cornell University
Izabella is a rising junior studying environmental engineering at Cornell University, where she leads a project team focused on reducing plastic waste through sustainable design practices. Growing up in New York City, she spent many summers exploring the various parks and natural areas scattered throughout the boroughs, where her love and passion for environmental studies blossomed. She hopes to spend her career researching methods of best water management practices and furthering awareness towards water scarcity and pollution problems. This summer, Izabella will be working alongside professors Theodore Muth and Brett Branco to analyze the phytoremediation properties of the duckweed microbiome, specifically in the Prospect Park pond. Outside of research, she enjoys working out at the gym, relaxing on the Coney Island shoreline, and spending time with family.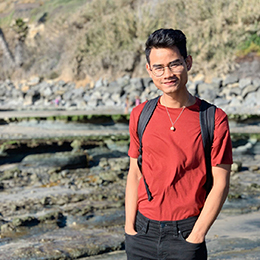 Ken Mey, Wilson Lab (Class of 2019)
BS Candidate, Biological Sciences, Cal State San Marcos
Ken is a senior at California State University San Marcos where he plans to obtain his degree in cellular and molecular biology. Within a molecular genetics lab, Ken has worked on several projects that range from wildlife and ecological preservation through a microsatellite study involving populations of loggerhead shrikes in the state of California, biological control for agriculture which deals with lady beetles as a form of agricultural management, and lastly population genetics where he assesses global patterns across microsatellite and single nucleotide polymorphisms (SNP's) within performed studies in order to highlight the importance of bridging the "conservation gap." Apart from working in lab, Ken is also a supplemental instructor for genetics where he hosts lecture review sessions for students enrolled to increase retention and success in the course. After obtaining his bachelors, Ken will pursue his PhD and work within the field animal and wildlife conservation, and later extend his career to teach in academia. On his down time Ken enjoys exploring nature, reading, and expanding his music library. Send me your playlists!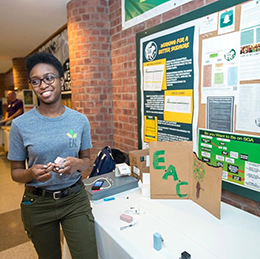 Ruthann Richards, Cheng Lab (Class of 2019)
BS Candidate, Environmental Science, Skidmore College
Ruthann is a sophomore at Skidmore College, where she also double minors in Computer Science and Political Science. She is the president of the Environmental Action Club and treasurer of BenefAction, which is the community service club on campus. At Skidmore, she works to increase student creation and engagement when concerning sustainability initiatives on campus and in their own lives. She will be working with the Cheng Lab this summer to study soil samples from New York City and Beijing.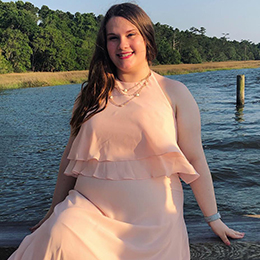 Lorel Shaw, Gosnell/Zarnoch Lab (Class of 2019)
BS Candidate, Biochemistry, Keuka College
Lorel is pursuing a BS in Biochemistry with a minor in mathematics at Keuka College. She is from a small town in upstate New York, which is where her passion for the environment began. The institution she attends places emphasis on experiential learning in order to provide experience that will help in future careers. Lorel has interacted with many professionals across a variety of scientific fields and intends to apply these lessons to her future research and education. These experiences have given her the tools necessary for a future in preserving the natural world and to have the most impact on the conservation of the environment. She intends on furthering her education by earning a PhD in environmental sciences at Cornell University or Columbia.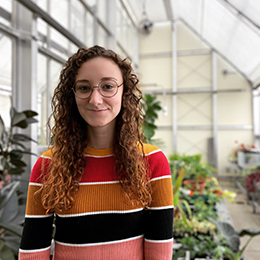 Claire Stevens, Branco Lab (Class of 2019)
BS Candidate, Environmental Sciences/Organismal Biology, Saint Norbert College
Claire is a senior at Saint Norbert College in Illinois, where she is double majoring in Environmental Sciences and Organismal Biology. She grew up in the Chicagoland area, but has spent considerable time in rural regions as well, giving her a unique approach to urban ecology.  At Saint Norbert, Claire is involved with aquatic ecology research, and studies zooplankton community dynamics. These interests in both aquatic ecosystems and urban ecology are what inspired her application to the BUEE program. Claire is working in the Branco lab this summer and is excited to join the BUEE program.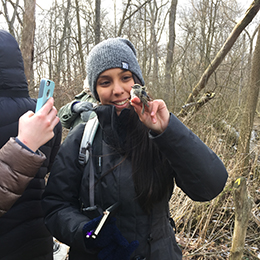 Marlen Terrazas, Forlano Lab (Class of 2019)
BS Candidate, Environmental Science, Ecology and Evolution, Saint Mary's College
Marlen is a senior at Saint Mary's College in Notre Dame, IN where she's an Environmental Science, Ecology, and Evolution major and Environmental Studies minor.  She's originally from Chicago, but spent a significant amount of time in Mexico as a child where she developed interests in both ecology and environmental ethics. She's spent her 3 years at Saint Mary's working in the Kloepper Lab, studying soundscapes within the Notre Dame area during Notre Dame Football season. Through this research, she's developed a passion for the conservation of natural soundscapes and hopes to continue to learn more about this through work from both a scientific as well as a moral and ethical perspective. Marlen will be working in the Forlano lab this summer to continue getting more experience on this topic!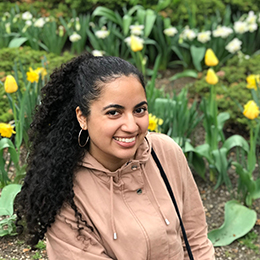 Paula Torres, Cheng Lab (Class of 2019)
BS Candidate, Biological Sciences/Sociology, Connecticut College
Paula is a senior at Connecticut College double majoring in Biology (Ecology concentration) and Sociology. At Connecticut College, she is a sustainability fellow where she coordinates a variety of projects to increase sustainable practices within the campus community. Furthermore, she is chair of La Voz, a common interest group geared at increasing first generation retention rates among Latinx students. Paula has also participated in a variety of research projects within the Biology, Botany and Sociology departments, which has sparked her interest in urban ecology and public health. She is excited to work with the Cheng Lab through the BUEE program this summer.
---
2018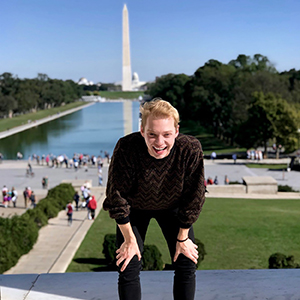 Kevin Adington, Smith Lab (Class of 2018)
BS Candidate, Environmental Science and Mathematics, UNC Chapel Hill
Kevin is a senior at The University of North Carolina at Chapel Hill double majoring in Environmental Science and Mathematics with a minor in Chinese. While studying, living, and traveling in China, Singapore, and Thailand, he developed a keen interest in urbanization, urban planning, and designing sustainable and resilient cities. Kevin will be working on a project related to the efficacy of green infrastructure in the New York metropolitan area with the goal of creating a better understanding of the various technologies that cities are currently using to combat issues such as flooding and water pollution. Upon his graduation from UNC Chapel Hill, he hopes to further his education by pursuing a masters degree in Urban Planning and Design. When he isn't studying, working, and conducting research, Kevin enjoys learning about other cultures and peoples (especially via food!).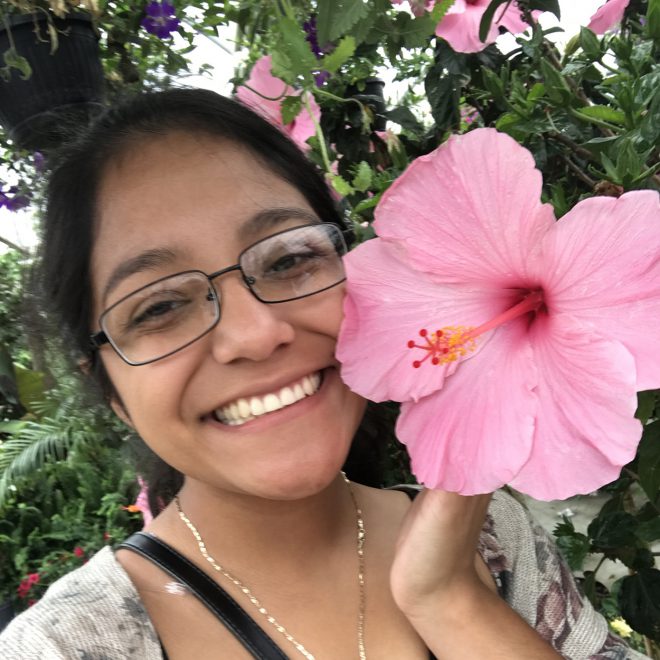 Karina Arellano, Basil Lab (Class of 2018)
BS Candidate, Biological Engineering, University of Arkansas
Karina is a freshman Biological Engineering student at the University of Arkansas. Her interest in urban sustainability and ecology began when she realized just how fortunate she was to live in such a green and natural state. The few times that she has visited an actual city have made her realize all that she takes for granted in her small town. Karina wants to help improve city life by implementing more efficient and reliable ways to get rid of human waste and trash. She is also interested in engineering cost-efficient ways to have green rooftops, which not only help keep the urban atmosphere clean but also reduce the temperature rises typical of cities.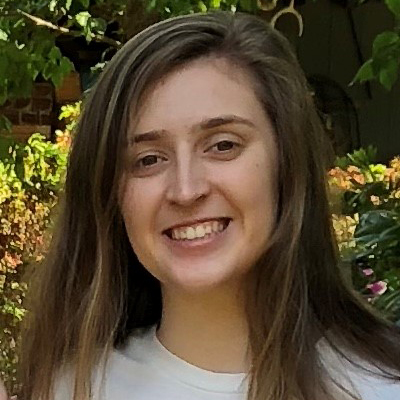 Elena Davis, Branco Lab (Class of 2018)
BS Candidate, Biology, Queens University of Charlotte
Elena is a freshman at Queens University of Charlotte, where she plans to double minor in Sustainability Studies and Spanish. She is involved with the Sustainability Club at Queens and has recently been elected Vice President. She is interested in careers in ecology, and is very interested in learning about the different ways humans impact the environment and how to solve issues that result from this impact.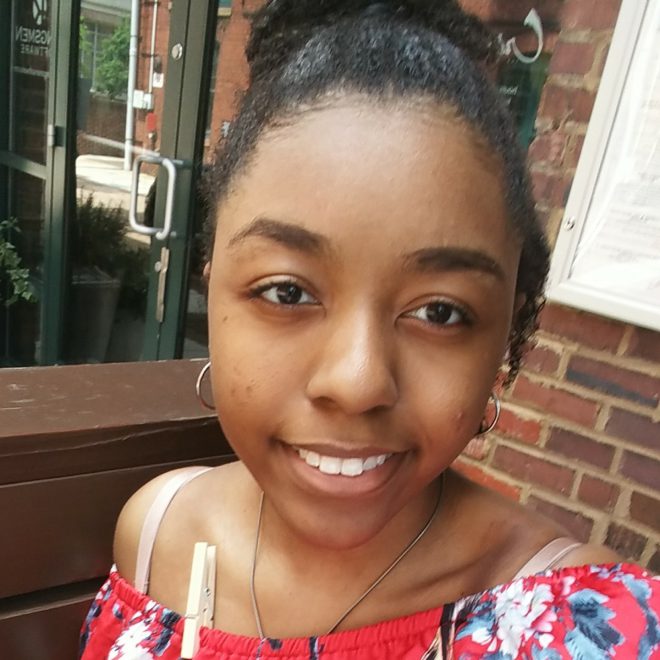 Christina Francis, Gosnell/Zarnoch Lab (Class of 2018)
BS Candidate, Earth and Environmental Science, Unity College
Christina is an Earth and Environmental Science major at Unity College in Unity, Maine. Her career objective is to become a politically conscious environmental researcher. This career path stems from the belief that federal law exists as an ethical guide for the public to provide a foundation for the public's moral compass. Because of this, law and policy are inevitable in the conversation of sustainability. Eager to expose herself to the field of environmental research, Christina spent her freshman year of college as a geoscience field and lab technician, working on two research projects: a hydrology project campus to investigate how much water moves through the campus system via runoff, natural drainage, and evaporation, and another project studying environmental change through the analysis of lake sediment cores. Genuine fascination felt during these in-lab experiences have only reassured her that her passions lie in environmental research.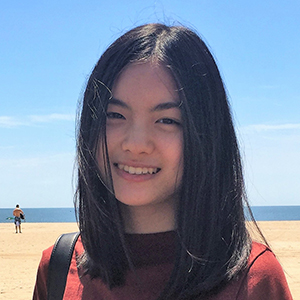 Elise He, Cheng Lab (Class of 2018)
BS Candidate, Environmental and Sustainability Sciences, Cornell University
Elise is a sophomore majoring in Environmental and Sustainability Sciences and minoring in Climate Change and East Asian Studies at Cornell University. Growing up in Brooklyn, she's always been interested in the integration of natural systems within urban systems, and vice versa, and wants to better understand the effects of human actions, contaminants, and pollutants on both natural systems and humans and how to mitigate those effects. This summer with the Cheng Lab, Elise will be studying urban soils in green infrastructure systems and urban community gardens.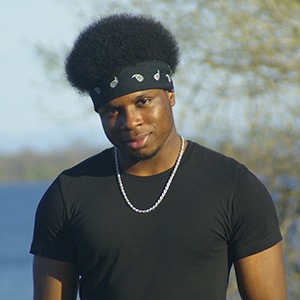 Corey Lavine, Wilson Lab (Class of 2018)
BS Candidate, Ecology and Biology, SUNY Plattsburgh
Corey is a senior at SUNY Plattsburgh pursuing his BSc in Ecology and Biology with minors in Chemistry and Environmental Science. He's mesmerized by the unity of biotic and abiotic factors that work together to create ecosystems, and plans to study sustainable techniques to manage invasive species that disrupt this unity. He also has a strong interest in herpetofauna and would like to study behavioral patterns and anomalies as well as work towards their conservation by studying climate change and habitat fragmentation. Outside of academics and research, he enjoys listening to hip-hop music, enjoying the beauty of nature, and practicing his photography skills. Say cheese!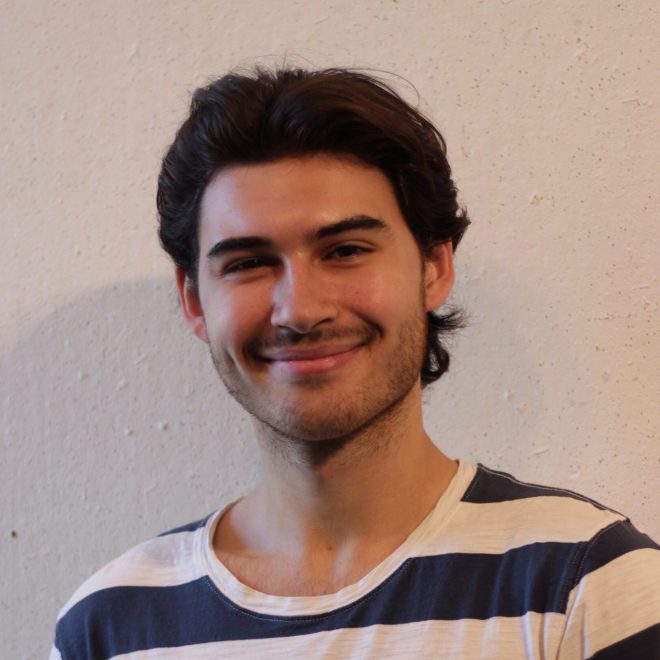 Steven Medina, Cheng Lab (Class of 2018)
BS Candidate, Ecology and Evolutionary Biology, Tulane University
How can we build sustainable cities? What roles do green infrastructure and community action play in building better cities? Steve believes that the key to achieving this lies at the intersection of ecology and public health. As a member of Dr. Joshua Cheng's lab, he'll be investigating the relevance of urban farms and green infrastructure to the design of sustainable cities, both within the localized context of community health and the larger context of sea level rise. Steve is currently a junior at Tulane University, in New Orleans, where he majors in Ecology and Evolutionary Biology as well as in Public Health. He describes himself as being somewhere between a gardener and a farmer; someone that's fascinated with the cultural, medicinal, and culinary relationships people have with the plants that they live alongside. He's also an animal lover, and is currently fostering his 7th dog of the year.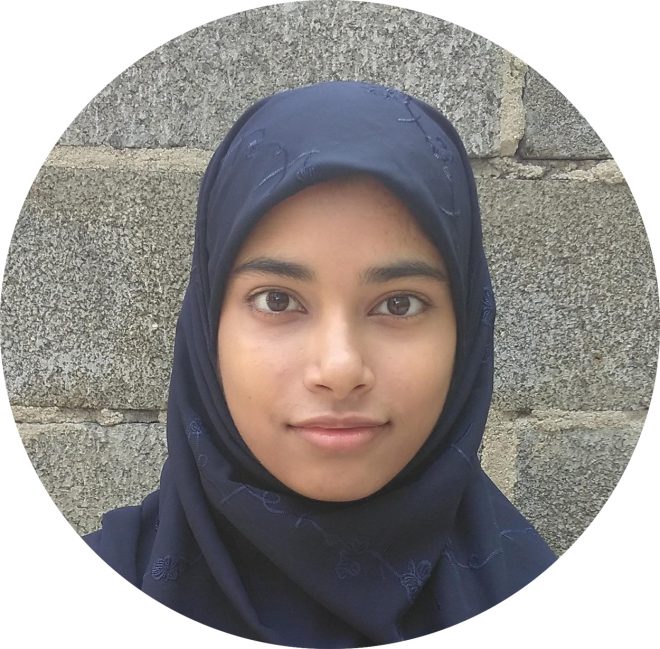 Nira Rahman, Wilson Lab (Class of 2018)
BS Candidate, Environmental Science, Lehman College
Nira is a junior working towards a Bachelor's in Environmental Science, and a Master's in Geographic Information Science (GISc) in the BS/MS accelerated program at CUNY Lehman College. In addition to studying the spatial relationships between people and the environment, she has a keen interest in ecology and interactions between organisms. This summer she will be working with the Wilson lab, testing whether specific MHC alleles in seahorses allow for greater fitness with microbes in the wild versus with microbes under experimental conditions. She's excited for the work that lies ahead (the seahorses just came in!) and to be working with the BUEE staff.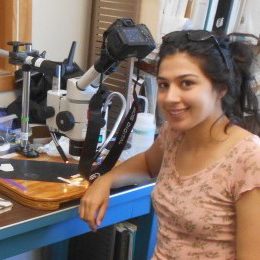 Ana Sofia Remis, Muth Lab (Class of 2018)
BA/BFA Candidate, Environmental Studies / Design & Technology, The New School
Ana is studying Design + Technology & Environmental Studies at the New School, with minors in Hispanic Studies and Interdisciplinary Science. Born and raised in Miami, FL, she likes to read, draw, and swim. This summer she will be studying duckweed with the Muth lab. Ana is interested in urban resilience, biological remediation, and green infrastructures. Her projects combine science and design to encourage audiences to participate in and become more curious about STEAM topics. After graduation she hopes to work as a science communicator.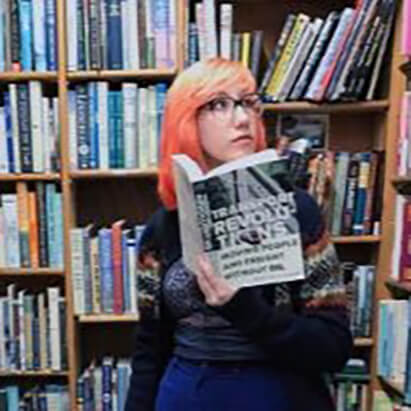 Jenny Symonds, Gosnell/Zarnoch Lab (Class of 2018)
BS Candidate, Environmental Science, Seattle University
Jenny is a freshman at Seattle University where she studies Environmental Science. She works as an intern for her school's Center for Environmental Justice and Sustainability and is on the leadership team for the food justice and urban farming club. Growing up in the Bay Area, California she participated in political activism and science education and has continued this work in Seattle. She is most interested in environmental planning and sustainable design to help create more resilient cities. She will be working in the Zarnoch lab studying community and ecosystem ecology.