Kiara Coryatt, Branco Lab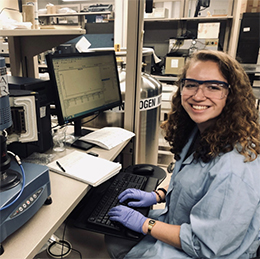 Lily Fillwalk, Muth Lab
BA, Environmental Science
Lily is a senior at Pitzer College in Claremont, CA pursuing a double major in Environmental Science and Studio Art. Outside of academics at Pitzer College, Lily is the senior class president of Student Senate, a Resident Assistant, and a Fellow at the Robert Redford Conservancy of Southern California Sustainability. Through attending the Indiana World Food Prize Conference at Purdue University, Lily became interested in food security issues and environmental science. She has also conducted research with the World Food Prize Foundation through the United States Department of Agriculture, focusing on the sustainability of functional foods. Lily hopes to attend a science policy based graduate program, where she can apply her established scientific knowledge to a public policy setting.
Cassiel Padilla-Durán, Wilson Lab
Anna Silverstein, Wilson Lab
Caroline Troy, Zarnoch Lab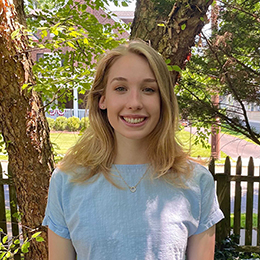 Emily Wilson, Branco Lab
BS Candidate, Biology, Lafayette College
Emily is a rising senior at Lafayette College double majoring in Biology and Environmental Studies. After taking environmental humanities classes, Emily became passionate about human-nature coupled systems. She hopes to have a career in ecosystem management in order to restore and conserve the beauty that drew her to a career in environmental science. She currently does conservation and environmental biology research with her "Lab fam." Aside from research, Emily is a member of the Lafayette Varsity Swim team. This summer, Emily will be working with Professor Branco at the Science and Resilience Institute at Jamaica Bay to implement Natural and Nature-Based Shoreline Features (NNBF).