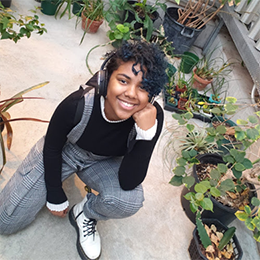 KC Coryatt, Branco Lab
BS Candidate, Environmental Studies, SUNY College of Environmental Science and Forestry
What can I do to promote sustainability in large cities? What role do humans play in protecting urban ecosystems? KC, a junior at the SUNY College of Environmental Science and forestry, hopes to answer these questions and much more doing research with Professor Branco this summer. KC is majoring in environmental studies with a focus on policy and law and is minoring in environmental writing and rhetoric. On campus, KC is the founder and president of their college's first-ever Black Student Union, facilitator and programmer for one of the main school Diversity programs, as well as Secretary of the Sexuality and Gender Alliance. Being a Brooklyn native, KC has grown up observing the urban environment around them and wondering what they could do to help these ecosystems thrive and remain for years to come. Knowing the scientific side of these issues can help them steer a better course for themselves and others in environmental law and advocacy, as there often seems to be a disconnect between scientists and those who fight for and create laws. Outside of schoolwork and managing extracurriculars, KC loves to sing, go on adventures, and take care of their two guinea pigs.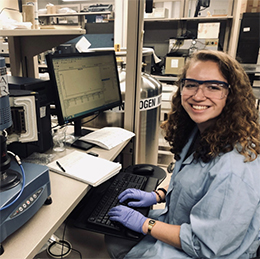 Lily Fillwalk, Muth Lab
BA Candidate, Environmental Science, Pitzer College
Lily is a senior at Pitzer College in Claremont, CA pursuing a double major in Environmental Science and Studio Art. Outside of academics at Pitzer College, Lily is the senior class president of Student Senate, a Resident Assistant, and a Fellow at the Robert Redford Conservancy of Southern California Sustainability. Through attending the Indiana World Food Prize Conference at Purdue University, Lily became interested in food security issues and environmental science. She has also conducted research with the World Food Prize Foundation through the United States Department of Agriculture, focusing on the sustainability of functional foods. Lily hopes to attend a science policy based graduate program, where she can apply her established scientific knowledge to a public policy setting.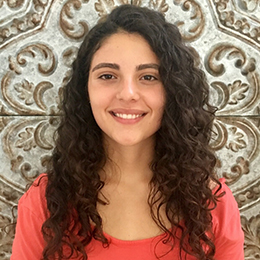 Cassiel Padilla-Durán, Wilson Lab
BS Candidate, Environmental Technology, University of Puerto Rico at Aguadilla
Cassiel is a rising senior at the University of Puerto Rico at Aguadilla pursuing a Bachelor's in Environmental Technology with a concentration in Environmental Chemistry. After conducting research at her home university concerning the recovery of mangrove forests in Puerto Rico damaged by Hurricane Maria, she became interested in environmental science, ecological restoration, and how ecosystems respond to external disturbances. This led to her participation in the RISE at Rutgers summer research experience where she studied how marine invertebrate traits relate to changes in their migration patterns caused by climate change. She hopes to pursue graduate school to further deepen her knowledge on topics concerning ecology and environmental chemistry in order to promote the conservation of these ecosystems and understand the mechanisms that drive them. This summer she will be working with Professor Wilson to study the reproductive behavior of nearshore pipefish.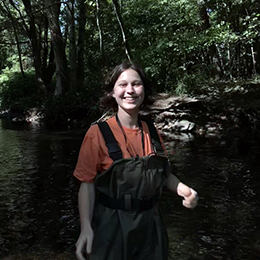 Anna Silverstein, Wilson Lab
BA Candidate, Environmental Studies, Mount Holyoke College
Anna is a junior at Mount Holyoke College majoring in Environmental Studies and minoring in Coastal and Marine Sciences. She became very passionate about urban environmentalism and conservation after she worked on multiple conservation campaigns in New York City, most recently working with the student led lobbying group, NYPIRG, on their campaigns to create a safer, more sustainable NY. Before that she worked at the New York Aquarium in Coney Island on their campaign to create a National Marine Sanctuary off New York's coast. It is her hope that she can use this interest to work to create equitable, sustainable and healthy communities of peoples and their ecosystems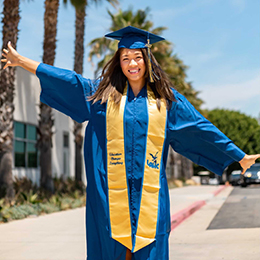 Lauryn Tham, Zarnoch Lab
AA Candidate, Biology, Los Angeles Harbor College
Lauryn is a Sophomore majoring in Biology at Los Angeles Harbor College where she holds leadership positions in several campus organizations. She is the captain of the varsity volleyball team, the Senator of Pre-Health Majors for Associated Student Organization, the Vice President of Alpha Gamma Sigma, and the Administrative Officer for Pre-Medical Honors Society. In addition, Lauryn has ambitions revolving student outreach and involvement which had led her to serve as the Student Representative for Asian Pacific American Student Services (APASS) and a Science, Technology, Engineering & Mathematics Success, Transfer & Equity Program (STEMSTEP) Student Mentor. Lauryn is determined to utilize the world-class mentorship and hands-on research experience provided by the BUEE program to promote positive change in her future scientific endeavors.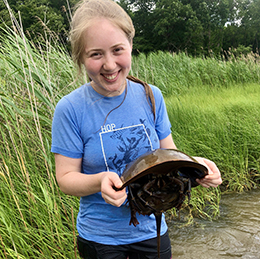 Caroline Troy, Zarnoch Lab
BS Candidate, Environmental Science, Brown University
Caroline is a rising senior at Brown University studying environmental science, with a focus on conservation science and policy. She previously interned at Morgan State University's Patuxent Environmental and Aquatic Research Laboratory studying oyster restoration and forage fish habitat, the Brown University Herbarium, and New York City Department of Parks and Recreation's Capital Projects. She is interested in careers involving ecological restoration and conservation. This summer she will be working with Professors Zarnoch and Gosnell to study topics such as the effects of mussels on salt marsh restoration areas.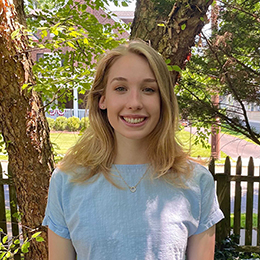 Emily Wilson, Branco Lab
BS Candidate, Biology, Lafayette College
Emily is a rising senior at Lafayette College double majoring in Biology and Environmental Studies. After taking environmental humanities classes, Emily became passionate about human-nature coupled systems. She hopes to have a career in ecosystem management in order to restore and conserve the beauty that drew her to a career in environmental science. She currently does conservation and environmental biology research with her "Lab fam." Aside from research, Emily is a member of the Lafayette Varsity Swim team. This summer, Emily will be working with Professor Branco at the Science and Resilience Institute at Jamaica Bay to implement Natural and Nature-Based Shoreline Features (NNBF).